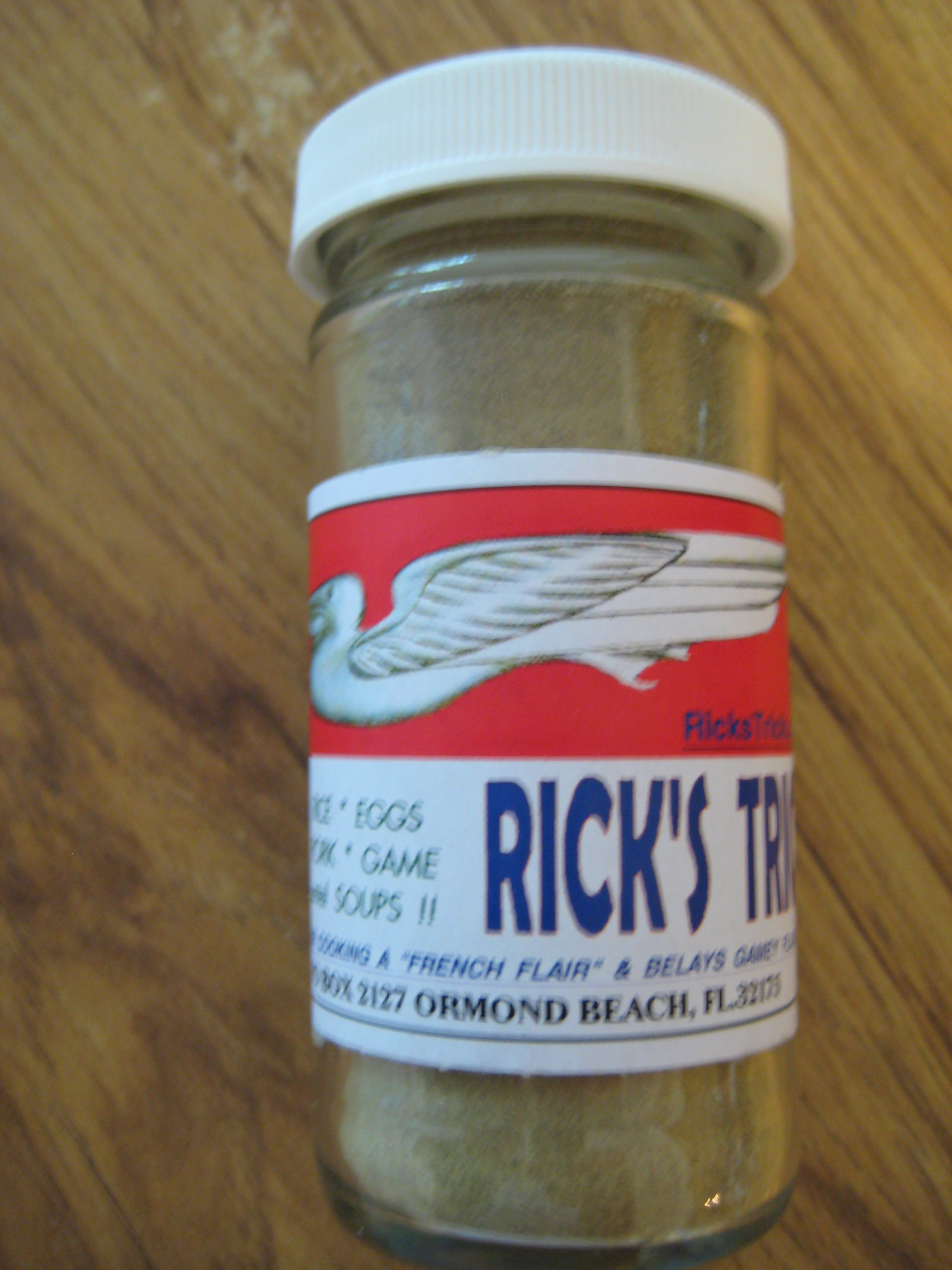 Rick's Trick Spice Blend/Rub
SKU:
On Sale
Unavailable
per item
RICK'S TRICK RECIPES 386 322-8863
1. FLORIDA AVOCADO EXPERIENCE
      The California people are often claiming the Florida Avocado doesn't have the same amount of flavor 
as their California counterparts. True, but our Florida guys have twice as much to eat! Solution:Sprinkle very fine 
salt (like from McDonald's salt packets or popcorn salt)
sparingly on the Florida Avocado, likewise, very small amounts of Rick's Trick. 
This bumps up the Florida Avocado flavor to almost California standards! 
2. LENTIL SOUP
   One of my favorite things to do is adding Rick's Trick to Lentil soup.  
16 oz. pack of rinsed Lentils, 
1 tablespoon of Rick's Trick,
1/2 chopped onion 
2 slices of bacon or pork, 
(add chopped celery if desired) for texture 
Add above to 2 qts. water.  
Heat to a Boil then reduce heat to simmer 30 min.- 1 Hour.
Or add all above except 2 tsp.salt to crock pot & cook on high for 2 hrs. or more. 
In the last 10 min. add salt. Serve.  
3. DAYTONA EGGS
  Add to scrambled or fried eggs immediately after placing in the pan, ½ tsp. of Rick's Trick. Cook as usual, 
serve. If adding meat to the eggs, saute meat first with olive oil & Rick's Trick, then add egg mixture. 
4. RICKS PERSONAL PORK CHOP RECIPE 
   Marinate pork chops with ½ cup red or white wine, ¼ cup of terriaki sauce, and 1 tablespoons of Rick's 
Trick 30-200 min., remove and dip in vegetable oil momentarily. 
Add to hottest flame on grill.  
Wait til chops begin to smoke, turn and cook for half that much time( as the first side).
Remove from grill & place back in remaining marinade.(wife likes to cook remaining marinade
for surety but I think alcohol in the wine does the safe trick too).  Serve to smiling faces.
5. SAUTE SHRIMP
 Saute shrimp in butter & ricks trick. It takes the unpleasant smell & taste out of the shrimp or fish. Many 
people who don't like these will remark of a change in attitude & taste.
6. RICK'S MAXIMUM FRIED POTATOES:
   FRY 4 RED POTATOES SLICED UP IN A LARGE IRON SKILLET
  USE 1/8 CUP BACON GREASE AND 1/8 CUP OLIVE OIL
  ADD ONION CHIPS OR GARLIC SALT OR BOTH
   ADD 2 TBSP. RICKS TRICK
   ADD 1 TSP BLACK PEPPER
MAYBE REGULAR SALT *BROWN AND SERVE TO YOUR ADDICTS
VENISON ????________________________________________